Why do I need to clean between my teeth?
Even if you brush twice a day, there are places your toothbrush bristles can't reach. There are several ways to clean between your teeth and flossing is the most common. Flossing removes plaque and food particles from between teeth and under the gum line. Your dentist or hygienist can show you the right way to floss. It may feel clumsy at first, but don't give up! It takes time to get the hang of it. The following suggestions may help: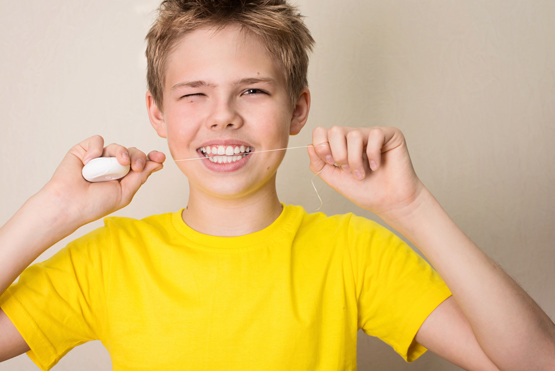 If you haven't been flossing, you may experience sore or bleeding gums for the first five or so days that you floss. This should stop once the plaque is broken up and the bacteria are removed. If bleeding does not stop, see your dentist.
If you have trouble handling floss, you may wish to try some other ways to clean between your teeth. There are a number of products, known as interdental cleaners that you can use. These include water flossers, pre-threaded flossers, tiny brushes and wooden plaque removers. Talk with your dentist or hygienist about which product may be most helpful to you.
There are so many dental products
How do I know what works best?
Break off about 18 inches of floss and wind most of it around your middle or index finger. Wind the rest of the floss around a finger of the other hand. This finger will take up the used floss..
Hold the floss tightly against the tooth. Gently rub the side of the tooth, moving the floss away from the gum with up and down motions.
Hold the floss tightly between your thumbs and forefingers. Guide the floss between your teeth, using a gentle rubbing motion. To avoid hurting your gums, never snap the floss into gum tissue.
Repeat this method on the rest of your teeth. As you move from tooth to tooth, unwind the clean floss with one finger and take up the used floss with the finger on the other hand. Do not forget the back side of the last tooth.
When the floss reaches the gum line, curve it into a C shape against one tooth. Gently slide it into the space between the gum and the tooth.